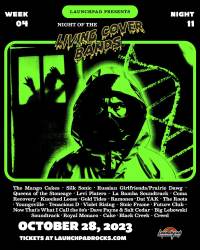 Night of the Living Cover Bands - Night 11
The Mango Cakes as Silk Sonic * Russian Girlfriends/Prairie Dawg as Queens of the Stoneage * Levi Platero as La Bamba Soundtrack * Coma Recovery/Distances as Knocked Loose * Dat YAK as The Roots
Youngsville as Tenacious D * Future Club as Now That's What I Call the 80's * Argie as Lorde * Dave Payne & Salt Cedar as Big Lebowski Soundtrack * Royal Monaco as Cake * Black Creek as Creed
Time: 7:00pm Day: Saturday Doors: 6:00pm Ages: 21+ Ages Price: $10 DOOR
All Associated Events
Night of the Living Cover Bands - All Nights
October 6 - 29, 2023
Night of the Living Cover Bands - Night 1
October 6, 2023 7:00 pm
- 1:00 am
Night of the Living Cover Bands - Night 2
October 7, 2023 7:00 pm
- 1:00 am
Night of the Living Cover Bands - Night 3
October 8, 2023 7:00 pm
- 12:00 am
Night of the Living Cover Bands - Night 4
October 13, 2023 7:00 pm
- 1:30 am
Night of the Living Cover Bands - Night 5
October 14, 2023 7:00 pm
- 1:30 am
Night of the Living Cover Bands - Night 6
October 15, 2023 7:00 pm
- 1:30 am
Night of the Living Cover Bands - Night 7
October 20, 2023 7:00 pm
- 1:30 am
Night of the Living Cover Bands - Night 8
October 21, 2023 7:00 pm
- 1:30 am
Night of the Living Cover Bands - Night 9
October 22, 2023 7:00 pm
- 1:30 am
Night of the Living Cover Bands - Night 10
October 27, 2023 6:30 pm
- 1:30 am
Night of the Living Cover Bands - Night 11
October 28, 2023 7:00 pm
- 1:30 am
Night of the Living Cover Bands - Night 12
October 29, 2023 7:00 pm
- 1:30 am
This Event Has Ended
Ticket price is subject to change at door
Night of the Living Cover Bands returns stronger and bigger than ever this year at the Launchpad. Get ready for 12 nights of killer covers from some of our favorite local bands.
Fridays & Saturdays are 21+
Sundays are All Ages
6pm Doors
$8 Advance
$10 Door
$50 Festival Pass for all 12 shows!
NIGHT #11 FEATURING
The Mango Cakes as Silk Sonic
Russian Girlfriends/Prairie Dawg as Queens of the Stoneage
Levi Platero as La Bamba Soundtrack
Coma Recovery as Knocked Loose
Gold Tides as The Ramones
Dat YAK as The Roots
Youngsville as Tenacious D
Violet Rising as Stoic Frame
Future Club as Now That's What I Call the 80's
Dave Payne & Salt Cedar as Big Lebowski Soundtrack
Royal Monaco as Cake
Black Creek as Creed