Tuesday Sep. 30th 2014
GWAR Eternal Tour Honors Lost Leader Oderus Urungus and Introduces New Scumdogs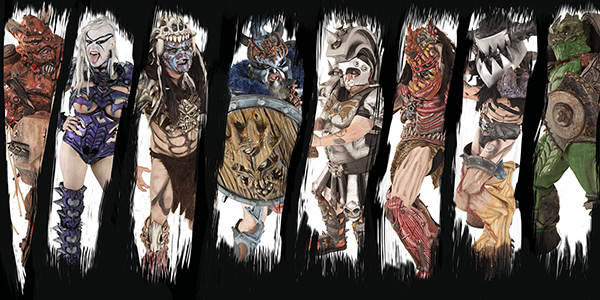 ANTARCTICA, 29th September 2014
The Scumdogs of the Universe are sharpening their axes and stoking the fires of their great war engines in preparation for the fall 2014 GWAR Eternal Tour. Global leaders had hoped the bouts of terror accompanying GWAR's annual rampages would finally come to an end with the passing of the the groups monstrous captain, Oderus Urungus. But tonight politicians, religious leaders, and citizens around the world are asking, "Why?! Why won't GWAR just leave the Earth in peace?"
The band's toothsome guitarist, BalSac the Jaws of Death had this to say:  "Something is wrong, unspeakably wrong. It feels as if the very fabric of reality has been ripped from belly to taint. And it all centers around Oderus' disappearance. One moment, life is fantastic, as we celebrate the near sinking of Japan as a result of our recent journey across the Pacific; and the next, he is just gone. Suddenly the world is a dark, vile place with hordes of trolls biting at my hooves and daring to spit poison in my face. There is a great evil behind this, and I will not rest until I know what has become of my brother!"
Mounting evidence points to a disruption in the core of time is the sudden appearance of the Berserker Blóthar, a Scumdog warrior who claims to be from the distant past.Apparently, he was sucked through a hole in the space/time continuum and deposited onstage in front of thousands of screaming metal heads. Fortunately for GWAR, he knows the words to all of their songs and has pledged to aid them by assuming the role of lead singer. Inexplicably, he is also a hell of a bass guitarist!
And what is to be made of the mysterious new Scumdog, Vulvatron? She appears as a cybernetic female assassin who purports to know the answers that GWAR seeks because she hails from the future. While some of the band seems to have fallen under the spell of her impressive blood-spewing assets, others remain skeptical. JiZMak da Gusha was quoted as saying, "Dames, they ain't nothin' but trouble."
BUY TICKETS FOR Gwar at Sunshine Theater on November 1st! 
GWAR Eternal Tour Lineup
Blóthar: Lead Singer, Bass Guitar
Beefcake the Mighty: Bass Guitar, Vocals
Pustulus Maximus: Lead Guitar, Vocals
BalSac the Jaws of Death: Rhythm Guitar, Vocals
JiZMak da Gusha: Drums
Bonesnapper: Bodyguard, Crappy Vocals
Sawborg Destructo: Annoying Nemesis, Annoying Vocals
Vulvatron: Plot Twist, Vocals