Tuesday Oct. 21st 2014
CHECK YO PONYTAIL Releases BitTorrent Bundle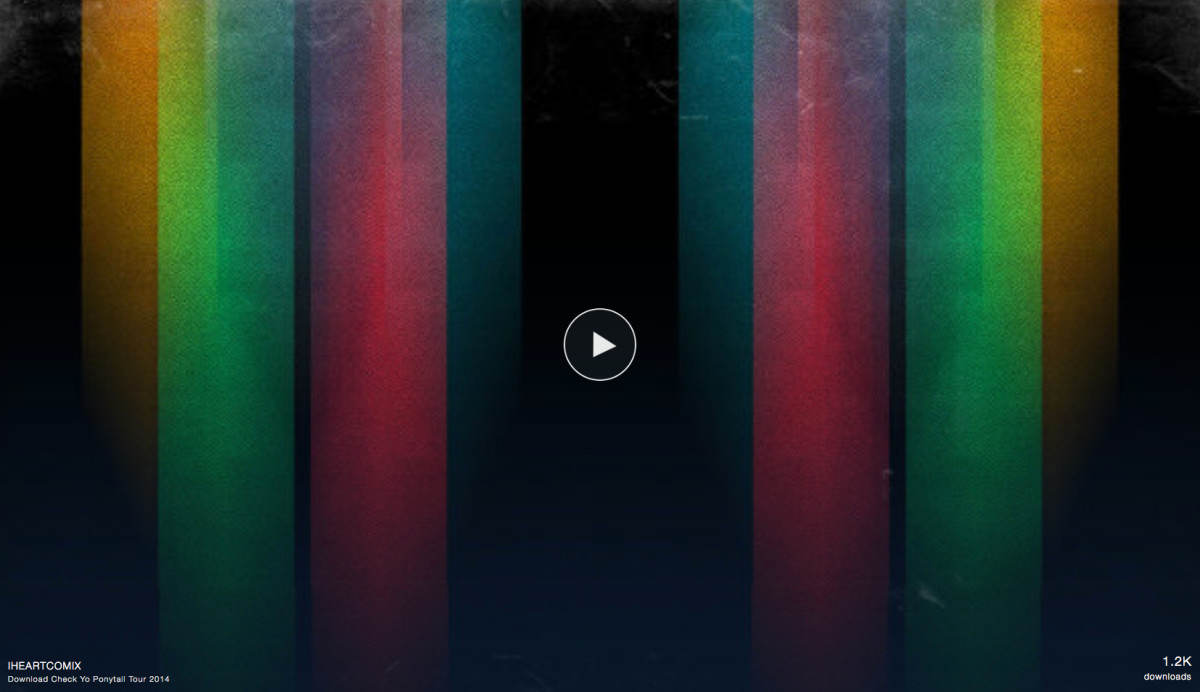 CHECK YO PONYTAIL RELEASES BITTORRENT BUNDLE INCLUDING EXCLUSIVE MUSIC FROM ANTWON AND CHELA PLUS EXCLUSIVE CYP CONTENT
CHECK YO PONYTAIL TOUR 2014 WITH THE PRESETS, LE1F, ANTWON, SAINT PEPSI, CHELA, AND FRANKI CHAN
DOWNLOAD: Check Yo Ponytail 2014 Tour Bundle - 
Check Yo Ponytail has established itself as a leading influencer in the world of live music. From the Los Angeles company's inception in 2006, CYP has been responsible for introducing numerous groundbreaking artists to the City of Angels including Justice, Diplo and Boys Noize to name a few.
As the brand expanded beyond the confines of the LA club scene, CYP and IHEARTCOMIX founder Franki Chan made the move to take his diverse lineups and live experiences on the road, launching the first Check Yo Ponytail National Tour in 2011. This year's CYP 2014 Tour follows suit with The Presets, LE1F, Antwon, Chela and Franki Chan joining forces for one of the most diverse tour billings this year.
In celebration of the tour, CYP and BitTorrent Bundle have teamed to bring you the 
Check Yo Ponytail 2014 Tour Bundle
, loaded with content from the performers on the CYP Tour 2014, including an exclusive remix album of Antwon's latest LP Heavy Hearted in the Function, 3 unreleased tracks from Chela, and an exclusive opportunity to 
pre-order Chela's newest single "Handful of Gold"
. Also included, a digital box set of CYP content including tour videos, a first look at the CYP TV pilot, all access footage, and a mass collection of art and promotional assets documenting the history of the brand.
Check Yo Ponytail 2014 Tour BitTorrent Bundle contents:
Antwon - Heavy Hearted In The Function: The Remixes LP (Music)
3 Exclusive new tracks from Chela (Music)
Chela Photo Set (Photos)
Check Yo Ponytail Tour Poster (Artwork)
Check Yo Ponytail Tour Video (Video)
The Presets Remixes (Music)
The Presets Photo Set (Photos)
LE1F Photo Set (Photos)
Original Franki Chan CYP Tour Illustrations (Artwork)
CYP Tour Poster by Jennifer May Reiland (Artwork)
Check Yo Ponytail TV Show Pilot Sizzle Reel (Video)
Check Yo Ponytail TV Show Pilot Taping Photos by Caesar Sebastian (Photos)
Chela - Live At Check Yo Ponytail TV Show (Love Is Selfish) (Video)
Chela - Live At Check Yo Ponytail TV Show (Romanticize) (Video)
Bleached - Poison Ivy / CYP TV Music Video (Video)
Check Yo Ponytail 'More Than A Show' Mini Documentary (Video)
CYP Movie 'Get Amongst It' Movie Posters (Artwork)
CYP Movie 'Get Amongst It' Movie Trailer (Video)
CYP Movie 'Get Amongst It' Promotional Videos by Andrew W.K., Big Freedia, Eric Andre & 12th Planet (Video)
CYP Movie 'Get Amongst It' Kickstarter Prize Video (Video)
CYP Movie 'Get Amongst It' Telethon Best Of Recap Video (Video)
Best of Check Yo Ponytail Flyer Retrospective (Artwork)
Best of Check Yo Ponytail Caesar Sebastian Photos Retrospective (Photos)
About BitTorrent Bundle
BitTorrent Bundle
 is a publishing project made with and for the world's creative community. Our mission is to help artists connect directly with fans, inside the content they share.
Each BitTorrent Bundle allows artists to distribute content directly to the Internet. And each Bundle comes with a key. Fans can unlock artist content, like Tomorrow's Modern Boxes, through a direct payment to the artist. The idea is to make each song a storefront, and each file more valuable, every time it's shared. Got ideas for the next BitTorrent Bundle? 
Hit us up
.
Check Yo Ponytail Tour 2014:
10/26 - Denver, CO @ The Gothic *

10/28 - Chicago, IL @ The Vic *

10/29 - Toronto, ON @ Danforth %

10/30 - Montreal, QC @ Club Tulipe % 

10/31 - Brooklyn, NY @ Warsaw *

11/2 - DC @ 930 Club *

11/4 - Atlanta, GA @ Variety Playhouse *

11/5 - Nashville, TN @ Marathon Music Works *

11/6 - New Orleans, LA @ Tipitina's *

11/8 - Austin, TX @ Fun Fun Fun Festival (The Presets Only)

11/9 -  El Paso, TX @ Tricky Falls #

11/12 - Las Vegas, NV @ Brooklyn Bowl #

11/13 - San Francisco, CA @ Warfield 

11/14 - San Diego, CA @ North Park Theater #

11/15 - Los Angeles, CA @ Regent #

* w/ Antwon, Chela, Franki Chan

# w/ LE1F, Chela, Franki Chan

% w/ Saint Pepsi, Chela, Franki Chan
The Check Yo Ponytail Tour
is a traveling version of IHEARTCOMIX's premier LA event series. Always forward thinking and breaking barriers, CYP is a diverse party experience unlike any other combining artists of different genres and entertainment mediums to create one 'All-In' experience! 
CYP Tour 2014 will be headlined by THE PRESETS with support from LE1F, ANTWON, SAINT PEPSI, CHELA and FRANKI CHAN heading out across the USA and Canada for 18 shows over 24 days. The show will also feature visuals by Demonbabies and be headlined by The Presets new live show which incorporates amazing staging and lights. As inthemix.com writes, "After all this time, The Presets still put on one of the best live shows you'll find: it's loud, it's perfectly crafted and most importantly, it's damn fun."
Established in 2006, Check Yo Ponytail has been a open-genre, open format event series held monthly in Los Angeles. With an emphasis on curation, CYP has premiered some of today's top performers with a few tried and true legacy acts in between. While the line-ups have always been an integral part of the CYP experience, it's the extended CYP universe that makes the events "More Than A Show"; complete with live animated visuals, original illustrations, professional photography & video coverage and comprehensive media campaigns that create an experience like none other.